Click here
to view the entertainment schedule for the Budweiser Sports Café & Bier Garten.

venue sponsor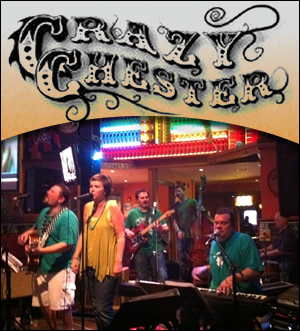 crazy chester
Website: facebook.com/crazychestercleveland

Formed in 2008 in Avon Lake, Ohio, this high energy quintet, comprised of talent with national touring experience, offers a rich blend of popular and obscure covers ranging from Americana, roots, blues, jam, Motown, classic rock, 80's and reggae. Crazy Chester promises to provide a unique twist with their arrangements and brings a new show every night.
To read more about how Crazy Chester formed, check out this article in the Avon Patch.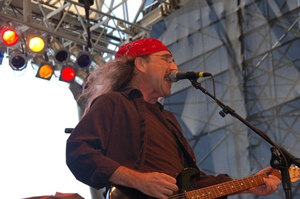 jonah koslen
Website:
jonah.com.co
Jonah Koslen has been active in the music business as a composer, a producer and a performer, since 1973. As the original member of the Michael Stanley Band, Jonah wrote and recorded some of MSB's most loved songs, "Waste a Little Time On Me", "Strike Up The Band", "Nothings Gonna Change My Mind" and "Ladies Choice". Jonah contributed lead guitar, lead vocals and arrangements to three albums and numerous compilations. His song, "Nothings Gonna Change My Mind" charted in the summer of 1977.

Jonah recorded his first the solo project, Back Tracks, in 1978.

Later in 1978, Jonah formed the now classic mid-west rock band, Breathless. The two albums recorded with his highly acclaimed band, featured such hit songs as "Takin' It Back", "Glued to the Radio", and "Walk Right In" among many others. "Takin' It Back" charted in 1979.

The greatest hits compilation "Jonah Koslen and Breathless 1978 - 1981" CD is available now on Line Level Music. This collection of songs comes from both the much loved Breathless albums, "Breathless" and "Nobody Leaves This Song Alive". It also includes two previously unreleased tracks, "Glued to the Radio" recorded live for a WMMS Coffee Break Concert at the Cleveland Agora and "Why Are the Lovers, Always the Last to Know".

In the 1980s, Jonah formed Jonah Koslen and the Heroes, recording two albums, "Aces" and "Orange". Jonah relocated to Los Angeles, California in 1984.

During his 13 years in LA, Jonah kept very busy. He recorded demos with 80's teen star Tiffany, appeared at Farm Aid II with blues legend Bonnie Bramlett in the Bandaloo Doctors, subsequently writing and recording several songs for an episode of the TV show "Fame", which Bonnie appeared in.

Jonah worked and recorded with one time Aerosmith guitarist, Jimmy Crespo, Guns and Roses guitarist, Gilby Clark, and appeared on a live television broadcast with Wayne Newton. He composed music for the Skin Diver CD which appeared in the films including Teenage Vampire, The Dangerous, and Lunar Cop. With friend Joe Walsh, Jonah created the 'morphing' video that appeared in concert with the Eagles, introducing the encore songs on the "Hell Freezes Over" world tour.

In the early 90s, Jonah reunited with Michael Stanley to help write and produce the Ghost Poets CD. He also composed and produced an album for the rock band Skin Diver.

At different times, throughout the years, Jonah has been a CD-ROM producer for Philips Media (producing and designing the "Don't Quit Your Day Job" game for the Improv Comedy club), an internet radio pioneer with ClevelandHits.com and Everstream and a web developer.

After his almost 10 year hiatus from music that found Jonah designing and producing computer games and web sites, Jonah returned to his first love in 2003 with his "One Man Island Band". A mix of Reggae, Calypso, Soca and Jimmy Buffett, this is the music to get the party started! Jonah's unique vocal stylizations and entertaining presentation turn any event into a 'Carnival'. His new island influenced original's include "I'm Gonna Get Buzzed (If I'm Already Busted)", "One Man Island Band" and "When Did All My Good Times Become Bad Habits". These 3 and 8 other new songs can be heard on Jonah's recently released CD "Telling on Myself", available on Line Level Music today.

Recently, Jonah resurrected the classic Michael Stanley Band double live album, "Stagepass". Jonah, along with his rocking new band Jonah Koslen's Stage Pass Now, have hit the road to bring one of the best loved live albums of all time back to the stage. See Jonah Koslen's "Stage Pass Now" in concert near you.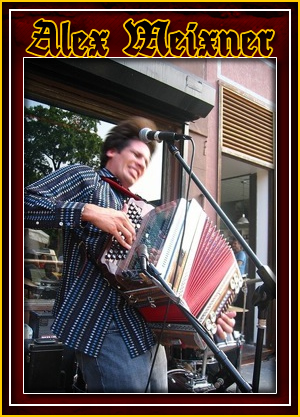 alex meixner
Website: alexmeixner.com
Alex Meixner's performing career began at age 6 with his two sisters and father in an ethnic folk ensemble. From these early experiences through headline appearances at music festivals throughout the US; concert performances with the London Symphony Orchestra, Sandy Duncan and his own jazz and ethnic ensembles; as well as over 50 recordings, Meixner has developed a unique musical mix that appeals to a wide cross-section of audiences.
Meixner's formative musical studies were on piano and piano accordion, but he quickly branched out on drums, diatonic button accordion, bass and trumpet, his college major. This instrumental versatility is combined with a musical background that has included intense studies and performance of jazz, classical, pop, polkas and many ethnic folk music genres with some of the leading artists in the
world. His talents in music and comedy were even featured on the Tonight Show on NBC in 2004. Most recently, his "Polka Freak Out" CD with Bubba Hernandez garnered a Grammy nomination in December, 2007.
Currently based in Palm City, FL, Alex is performing as a solo artist and with numerous touring ensembles. His solo programs- "Fascinating Rhythms of the World" focus on the fusion of Slavic folk music and Jazz, but also include the inflections of folk, pop and classical styles from Latin America, Africa and other sections of Europe. This music is the basis for a series of multi-cultural music education seminars and performances which are currently available through the Pennsylvania Council on the Arts "Artists in Education" program.
Alex also leads The Alex Meixner Band in performances throughout North America. Whether you are looking for sure fire crowd pleasing family entertainment, something for the senior audience, classy jazz for a reception or a unique party band- Alex Meixner will work tirelessly to provide the perfect mix for your event.