Labor Day Oktoberfest supports area non-profits, youth groups and cultural organizations. So buy a ticket, have fun and do good all at once!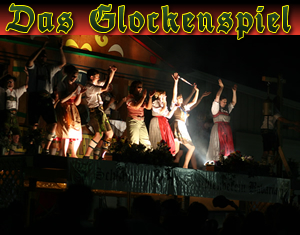 The Glockenspiel has become a much beloved fixture at the Oktoberfest. When the hour strikes, the music kicks in and smoke machines billow. With all the jubilance of a night on Bourbon Street, Oktoberfest revelers gather round the flashing lights of the Glockenspiel. Like birds from a cuckoo clock, the Schuhplattlers of
STV Bavaria
emerge dressed as nuns, old men, monks, or just dressed like themselves. They then proceed to show the crowd why they haven't finished out of the top ten among shuhplattling groups nationally in over 40 years. At routine's end, they let loose a hail of souvenirs upon those gathered round the Glockenspiel. From beads, to frisbees, t-shirts, keychains and more, Oktoberfest keepsakes rain down so liberally that you'd have to be innebriated not to catch something.... But this is Oktoberfest, so....
Be sure not to miss the
Celebrity Bead Toss
, where local notables rock the Glock, and the souvenirs are worth double
*
. Besides, it's not often you get to see the likes of Dick Goddard or Robin Swoboda doing the bobble-head dance to German Techno Pop. Should you have a camera, you may even capture footage suitable for blackmail. If you're feeling low, or don't feel like dancing, try some of the tri-colored flag shots sold from the concession stand under the Glockenspiel. Trust us, they'll help you get your groove on... though we can't promise that you'll be able to get it off, so
drink repsonsibly
. More info on STV Bavaria is available on our
International Pavilion
page.


Fun Fact:
The Glockenspiel is actually a working clock.
*
Souvenirs may not be worth double.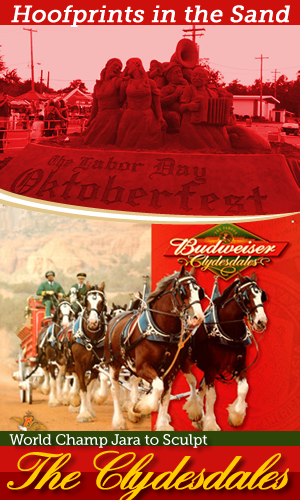 Website:
artcleveland.com
Local prodigy Carl Jara is now a World Champion! Having grown up on the sunny shores of Mentor, OH, he had all the advantages: shale, rocks, a rusty bucket.... Okay, he didn't have any advantages. All the more amazing is it then, that Jara, having entered himself in the largest master's sand sculpture competition in the world, comprised of 72 sculptors in three divisions, plus sculptures from two former contests, won the whole shooting match and emerged as World Champion. The competition took place in the Canadian Rockies at the foot of a glacial lake in Harrison Hot Springs, British Columbia. For more info on Jara and tons of photos of his work, visit Carl's site.

For 2012, Carl will be sculpting the Budweiser Clydesdales. If you had a chance to see his depiction of the Beowulf fighting the dragon last year, you know that this scultpture will surely be epic.

Recently featured on The Travel Channel, Carl Jara has won just about every honor there is to win as a master sand sculptor. In addition to having been named 2008's World Champion, he is the only sculptor ever to have won more than one Sculptors Choice Award at the World Championships -- receiving the honor an unheard of four times in the last six years. Carl took home his fourth Solo medal at the 2006 World Championships, and two years ago, as a member of team Grain Damaged, Carl won Sand Blasters' Best Recovery Award with then teammate, Kirk Rademaker, after suffering a blast in the first round. Note: If "suffering a blast in the first round" doesn't mean anything to you, visit Sand Blasters, or check out the following videos from You Tube:

Looks like a blast, doesn't it?
Over the past four years, Carl has completed an amazing 15 foot tall castle in the likeness of Neuschwanstein, converted one of Mad King Ludwig's Banquets into sand, and sculpted the Von Steuben Day Parade scene from Ferris Bueler's Day Off, and recreated Wagner's Ride of the Valkyries. Visit our
photo gallery
to check out pics from past years. Carl'is subject for Labor Day Weekend 2012 will be to recreate a scene including teh world famous Budweiser Clydesdales. Just another reason why there's no better place to spend your Labor Day weekend than the Cleveland Oktoberfest at they Cuyahoga County Fairgrounds!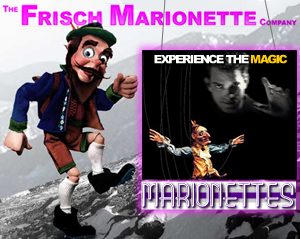 Website:
frischmarionettes.com
When:
Saturday:
1PM-2PM and 4PM-5PM
Sunday:
1PM-2PM and 4PM-5PM
Monday:
1PM-2PM
To call a production by
The Frisch Marionette Company
a puppet show would be like calling the Indy 500 "some cars driving." Not too many puppeteers have found themselves featured on
Showtime
and in
People
magazine. Frisch has been featured in both. In terms of staging, lighting, artistry, and originality, Frisch transcends the usual, and ventures into the extraordinary, mesmerizing children and adults alike with their productions. Doubters need only visit the
Testimonials
section of the Frisch website, where words and phrases like, "enthralling", "...best school performance I have seen in my 21 years of teaching," "Wonderful! Wonderful! Wonderful!," and "The children were spellbound" are the norm. This type of entertainment is rare. This quality of entertainment is even rarer.
IN THEIR OWN WORDS
The Frisch Marionette Company began as all good things do, with a thought, a dream and a committed passion to making that dream real. We could say that the beginning of the Frisch Marionettte Company goes all the way back to a childhood puppet show whose impression never ended. That would be true, but it was much later, after many years meandering through the arts that Kevin Frisch rediscovered the beauty, the challenge and satisfaction of puppetry.
By 1986 Kevin had moved to New York City and joined Nicolas Coppola and The Puppetworks of Brooklyn. Working with the many talented puppeteers at the Puppetworks, Kevin developed his own art, craft and skills as a puppeteer and artist. The next nine years were spent touring the New York Metropolitan area as well as performing in The Puppetworks permanent theatres in Brooklyn and Macy's Herald Square.
In 1995 Kevin moved back to Cincinnati to begin what is today The Frisch Marionette Company. Working with a talented team of puppeteers and artists, Kevin has established The Frisch Marionettes as an exceptional entertainment and educational experience for children and adults alike.
Working primarily with marionettes, The Frisch Marionette Company performs in the traditional styles of 19th Century European Puppetry. Drawing inspiration from the great Europeon troupes such as the Salzburg Marionette Theatre, we endeavour to bring one of the great old world arts to young, contemporary imaginations.
Every aspect of a Frisch Marionette production is designed, handcrafted, created and recorded in our own workshops. Each and every puppet is handcarved, every costume is sewn and custom tailored for each character. We take great pride in our craft, but we're even more proud of the excited, twinkling eyes of wonder that surround us at the end of each performance.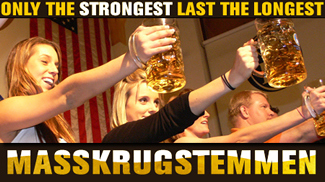 Qualifiers:
Fri., Aug. 30th at 8:30pm
Sat., Aug. 31st at 8:30pm
Sun., Sept. 1st at 8:30pm

Finals:
Mon. Sept. 2nd at 4:00pm

Rules & Entry Form: Click here

At The Cleveland Labor Day Oktoberfest when we talk about someone who can't hold their beer, we're not referring to their tolerance... we're talking about
Hofbräu's Masskrug Contest! So if you're looking for a reason to hit the gym, work your core, and add some definition to those triceps, one word for you: Masskrugstemmen! Or perhaps you're already in training, keep a daily log of your Body Masskrug Index, and have sold all your worldly possessions but for a stein, a liter of beer and a dream. For the novices among you, a bit of explanation: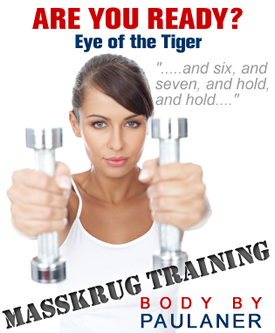 "Masskrugstemmen," translates loosely to
the lifting of a liter mug of beer
(leave it to Bavarians to condense those seven words to one for convenience sake). Masskrugstemmen is a well-known and competitive Bavarian sport, right up there with masskrugdrinkin (we'll let you work out the translation). The "Masskrug," a 1 liter Stein, is held with one arm, completely outstretched and parallel to the floor. The goal is simple: to hold a filled stein for as long as possible. Sounds easy, right? It's not, but consider the gauntlet thrown, as you have now been officially challenged to enter one of our Masskrugstemmen Contests to be held in the Cleveland Oktoberfest Bier Garten at 8:30pm Friday, Saturday & Sunday nights, with a Final to be held on Monday, Sept. 5th at 4:00pm.
Each evening the longest stein holding time will be recorded. Winners from each day will receive comp tickets to return for the Masskrugstemmen Championships on Monday.
RULES AND REGULATIONS:
To participate in the Masskrugstemmen you must be able to hold "The Masskrug," a filled 1 liter stein to be held with one arm (left or right), stretched out in front of the body (not sideways!), and completely parallel to the floor. If the arm holding the Masskrug is not absolutely parallel to the floor, the contestant gets a warning – after two warnings the contestant is disqualified.

The winner of the Masskrug Finals held on Monday, Sept. 3rd will receive a new, 50" High Definition Toshiba T.V. valued at over $1,200!

*NOTE: Please review the legal disclaimer below before participating in any stein holding contest. Management reserves all rights.

STEIN HOLDING CONTEST LEGAL DISCLAIMER:
• Masskrugstemmen is NOT a drinking game. The competition is about holding a filled 1 liter mug on an outstretched arm in compliance with the rules set by the organizers.
• I am aware of the risks involved in Masskrugstemmen, e.g. cramps, muscle tension, or other injuries that might occur, including to my self-esteem.
• Neither The Cleveland Oktoberfest nor any sponsoring brewer are to be held responsible for any injuries that occur in connection with the competition.
• Neither The Cleveland Oktoberfest nor any sponsoring brewer encourage drinking. Even though Masskrugstemmen involves a filled 1 liter mug, we strongly encourage all in attendance to drink responsibly and to neither drive nor operate machinery while under the influence of alcohol.

** Every contestant hereby agrees that he or she is participating in this activity with the knowledge that it could result in injury and specifically absolves The Cleveland Oktoberfest and any sponsoring brewer from any and all liability resulting from their participation.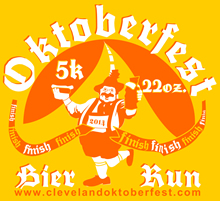 When:

Monday, Sept. 2nd, 2013

Race Managed By:

Hermes Sports


2013 Application Form: Click Here to dowload a pdf registration form, or Click Here to register online.
2012 Results: Click here to view results from the 2012 Bier Run; pics can be found in our gallery here.

At Oktoberfest, we care about your health. Really, we do. In fact, we were just talking about it the other day, how much we care about your health. So before you gobble that giant creampuff, or guzzle your first Hofbrau, we suggest that you go for a little run—or walk if it suits you. In fact, you're welcome to crawl... just so long as you pay your entry fee. Before you accuse us of being too greedy, bear in mind that proceeds from the 2013 5k Bier Run will go to help local charities.
The 2012 Cleveland Labor Day Oktoberfest 5K Bier Run/1 Mile Walk was held Monday, September 3rd, 2012. The race drew over 700 runners. Many thanks to all who participated!


If improving your health and helping others in need isn't enough incentive, with your entry, you'll also get a Mapleside Farms goody bag and a lovely Oktoberfest Bier Run T-Shirt—perfect for all occassions. Whether lounging around the house, out on the town, or entertaining clients in the board room, all eyes will be on you in your spiffy Oktoberfest Bier Run T-Shirt. In fact, we're so sure you'll like it, we've put it in writing: "If your Bier Run T-Shirt doesn't accentuate your finer features whilst hiding those trouble spots better than any T-Shirt you've ever worn, our name isn't Oktoberfest... so you'd better run faster."

Click here to open the Oktoberfest Bier Run entry form.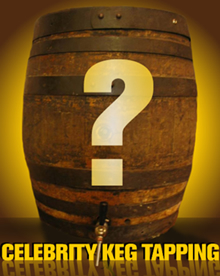 Each year Oktoberfest invites a celebrity from either the community or the national stage to tap its first keg, and this year, that celebrity will be.... Well, you'll just have to come to Oktoberfest and find out... or you could text message someone who is at the festival, but that's not near as much fun!
To find out about Art Market, the Chalk Art Exhibition, the Vintage & Antique Car Show, the Vintage Air Cooled VW Bus Exhibit, and other exhibits, visit our exhibits page.