The Labor Day Oktoberfest is excited to announce that it will be holding an international dance exhibition featuring dance companies from the Cleveland area and beyond. You'll see French Cancan dancers, Irish Step Dancers, Russian Dancers, Chinese Dragon Dancers, Bavarian Slap Dancers, and many more–all in full ethnic costume! Below is an partial list of the dance companies who will be performing. Check back often or
subscribe to our newsletter
to receive updates. To view the schedule for the Hacker-Pschorr International Dance Tent,
click here
.
schnickelfritz
Schnickelfritz, known as the "de facto" late night house band at Hofbrauhaus Cleveland has been performing at the venue since they opened their doors in 2014.

Guests can expect to hear a wide variety of music from both traditional and modern German beer drinking polkas as well as waltzes to rock and roll sing along favorites from the 1950's to present day.

Seasoned, professional musicians, along with acclaimed female vocalist, Christine Hibbs, Schnickelfritz offers much versatility to accommodate your special event.

Typically performing as a 6 piece band, Schnickelfritz guarantees a fun-filled, and spectacular event, guests have referred to as liThe Schnickelfritz Experience!"

Schnickelfritz are:
Don Wojtila – Accordion, Keyboard, Trumpet and Vocals
Christine Hibbs – Vocalist
Al Bambic – Drums
Eddie Rodick III – Guitar, Vocals
Phil Srnick – Bass, Vocals
Ralph Delligatti – Bass
Geoffrey Wittine – Trumpet
gottscheer blaskapelle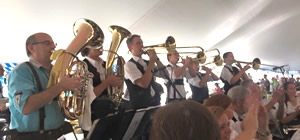 The Gottscheer Blaskapelle was founded in 1969 by Edmund Seifert and began with 5 musicians, who immediately started building a repertoire of Austrian-style brass band music. With the support of parents, relatives and friends, the Blaskapelle thrived and was comprised of over 30 musicians by the early 1970s. Mr. Seifert served as the group's president and director for approximately 40 years. Al Widmer, who has been with the band since its early days, is its current musical director.

Proudly, the Blaskapelle has always been a multi-generational group. Its youngest musicians, often a mere 10 years of age, play and learn from its most seasoned players, who can be 80 or more. A few original members still rehearse and perform with the Blaskapelle and encourage newer members to learn, play and appreciate the band's rich musical heritage.

The Gottscheer Blaskapelle's purpose is to preserve, teach, and promote its rich musical heritage. It does so through rehearsals and performances of primarily Austrian and German brass band music. The Gottscheer Blaskapelle regularly shares this rich heritage by performing at numerous German, ethnic and community events and festivals throughout the Cleveland area, as well as in New York City, Milwaukee, Kitchener and Toronto, Canada.

The Blaskapelle has also had the pleasure of touring through Germany and Austria. While on tour in Graz, Austria, it was featured playing 'Heimatland Gottschee' on Austrian Television. This piece was composed specifically for the band by composer/arranger Herbert Krebs.

The Gottscheer Blaskapelle is affiliated with the Erster Österreichischer Unterstützungs Verein, also know as The Gottscheer Club, which is located in Novelty Ohio.

The band is always happy to welcome new members. Please feel free to contact us through our Facebook page: facebook.com/GottscheerBlaskapelle

st. nicholas russian dancers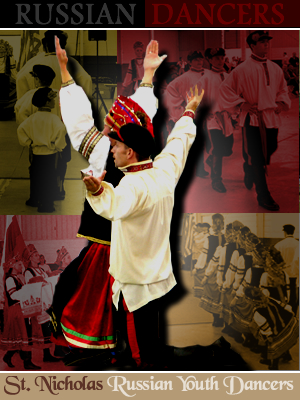 Oktoberfest is excited to announce that the St. Nicholas Russian Youth Dancers will again be returning to perform at this year's Oktoberfest. Dressed in full costume, a procession of dancers and flagbearers enters the hall, some holding forth offeratory loaves of bread. Once onstage, they perform original and variation folk dances from Russian, Ukranian, Gypsy, Gregorian and Carpathian cultures. Their repertoire includes ballroom dances from the tsarist era, peasant folk dances and dances born amidst the Russian population in the U.S.

Carrying on the long standing tradition of folk dancing in St. Nicholas Orthodox church, the youth dancers were organized in 1985. The troupe consists of 35 children, teens and young adults who perform at international, parochial and civic events.

A dance teacher for many years in the Akron and Pittsburgh areas, Director Rosemary Pyrch Simpson organized and has directed the ensemble since 1985.

st. haralambos hellenic dancers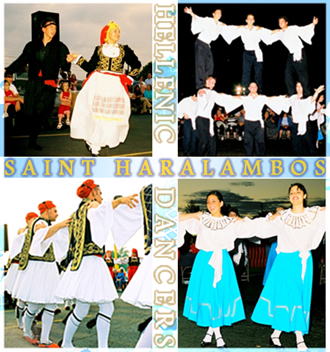 Web: sthhd.com

The St. Haralambos Hellenic Dancers are brought together by a common love of Greek folk dance and welcome you to experience the spirit of Greece through traditional and modern dance. Each perfomer brings their own artistic style into every step while the troupe strives to maintain the authenticity and spirit of Greek folk dance in its original social, traditional and historical context. The result is a stirring presentation highlighting the tradition of Greek dance in a uniquely choreographed, entertaining fashion and to make them accessible to a wider audience.

burke school of irish dance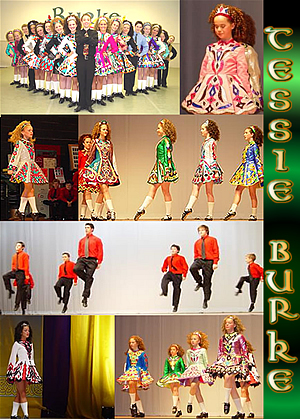 Web: burkeirishdance.com
For 50 years, Cleveland native Tessie Burke has dedicated her life to teaching Irish dance. Her years as a teacher have been rewarding for many reasons, not the least of which has been overseeing the emergence of her first world champion, Garrett Coleman. Garrett will be dancing toe to toe with acclaimed local talents, Katherine Stull and Torrie Duns (also of the Burke School), as well as with younger brother Kieran, who placed 7th in the "Worlds" held in Belfast.

singing angels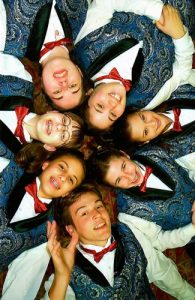 Web: singingangels.org

The Singing Angels, founded in 1964, is the musical voice of the Northern Ohio Children's Performing Music Foundation, Inc., a registered 501(c) (3) non-profit organization. This arts and youth development group is dedicated to teaching the highest level of artistic achievement in the performing arts. The mission is to engage youth from all communities in quality music and performing arts education that teaches teamwork, builds confidence, and provides a foundation for life.

Three Angel choruses and small groups perform over 100 concerts a year featuring a wide variety of music, including Broadway, pop, gospel, patriotic, barbershop harmony, light classical, and good old-fashioned sing-a-long.

Over 275 children, ages 6 to 18, take part in the organization. The Singing Angels hail from more than 70 communities in 8 counties, and represent numerous races, creeds, and socio-economic backgrounds.

yin tang dance company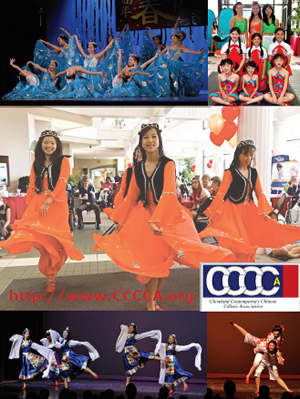 Web: yintangdance.com
The Yin Tang Dance Company is comprised of students of the CCCCA Chinese School in Solon, OH. Yin Tang has been performing all over Northeast Ohio with her students since 1990.

Roughly once each summer, Miss Tang visits China and often brings back new dances for her students who perform most frequently around the Chinese New Year. Most all of the Yin Tang dancers live in the greater Cleveland area and hold Chinese ancestry.

Factoid: The Chinese character above the girl in the picture is really two characters, each meaning "Happiness." Taken together double happiness translates to "Joy," a characteristic which infuses the performances of The Yin Tang Dance Company.

Dances Include:

Tibetan Dance: "Kan Ding Love Song"
This fast-paced dance is brought to you from the beautiful Tibetan culture. The song: Kan Ding Love Song rejoices for youth and abundance.

Xin Jiang Dance: "The Ripe Grapes"
From the North comes a soulful Xin Jiang song. A woman patiently awaits for her lover who has gone away to war. He promises to return when the grapes on their grapevine are ripe.

Peacock Dance: "Bamboo Rainforest"
A dance from Thailand, water is worshipped as the source for all life. The Peacock is regarded as a god and admired for its beauty.

Mongolian Dance: "Children of the Mongol Plains"
From the Mongolian Plains comes a bevy of girls on horseback. Join them as they frolic about tending to their daily activities.

Handkerchief Dance: "Visitor From Afar, Would You Please Stay?"
The Music is from the Yi Nationality, where it is customary to make guests as comfortable as possible. The Yin Tang interpretation combines it with traditional Han spinning handkerchiefs.

Fan Dance: "Spring Flowers by a Moonlit Creek"

A song well known throughout Chinese Culture.




jenny may school of highland dance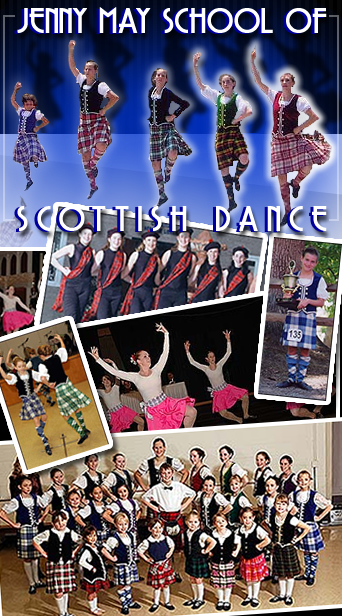 Website: jennymaydance.com

Based in Mayfield Heights, Ohio, The Jenny May School of Highland Dance is comprised of approximately 30 dancers ranging in age from 4 to 20. The dancers compete and perform in the U.S. and Canada year-round.
Students of the Jenny May School of Highland Dance are the official dancers of the Scottish Heritage Association of Northeast Ohio. The dancers also perform regularly with Cleveland Kiltie Band, North Coast Pipe Band, and Red Hackle Pipes and Drums as well as at shows at the Renaissance Hotel in Cleveland, festivals and weddings. The Jenny May School of Highland Dance is also part of the touring show "Touch of Tartan" which promotes the music, dance and culture of Scotland.
The school was recently recognized by the Northeastern Ohio Tartan Day Committee and Cleveland City Council for its work in preserving Scottish heritage in Northeast Ohio.

madame gigi's cancan dancers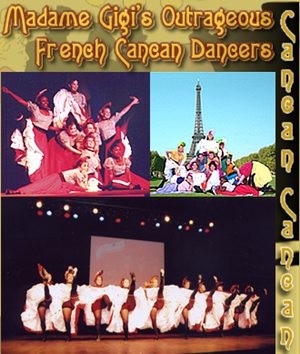 Any one of these irrepressible, high-energy dancers will tell you that the Cancan is the ultimate, "extreme sports" of the dance universe.  The dance is an athletic sprint from beginning to end, punctuated by high kicks, flying petticoats, and individual displays of dance prowess.  You'll see for yourself why this dance would have been outlawed in Paris in older days, when a glimpse of a lady's ankle would have been shocking!
MGORCD have been representing France at various events throughout the Midwest for the past years.
piast polish folk dance group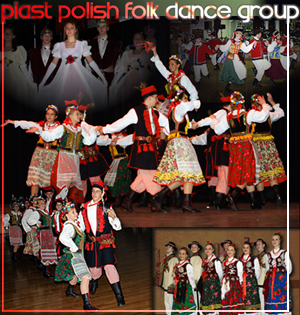 The "PIAST" Dance Ensemble was organized by Alliance of Poles current President John Borkowski in 1992.
The name "PIAST" is the family name of the first dynasty of Polish kings who ruled Poland from 960 to 1370 and who unified and developed the country into a powerful European state.
The "PIAST" Ensemble has different authentic costumes for each dance, most of which are imported directly from Poland and tailored especially for "PIAST".
The present group has been together for two years and features dancers ages of 13-18 who carry on the legacy of Poland through Polish song and dance. The choreographers of the "PIAST" Dance Ensemble are Agnieszka Kotlarsic and Malgorzata Kacka. Co-ordinators of the group are John and Ligia Borkowski and Ewa Trzeciak.
One of the dances performed by "PIAST" is called "Krakowiak"—a regional dance native to Kraków, Poland. The Krakowiak is a couples group dance, led by the first couple — in olden times, often the bride and groom. Costumes are original and traditional. Included in the dance Krakowiak is the Kraków Lajkonik—one of the oldest Kraków folk dances, dating as far back as the 13th century.
The Alliance of Poles "PIAST" Ensemble will also perform a regional dance from Green Kurpie in north central Poland. Head pieces with colorful ribbons identify women from the Kurpie region of Poland.
Based on the traditions of the Beskidy and Zywiec regions, the "PIAST" Ensemble will also perform mountaineers' dances. The mountaineers—gorale—typically sing in groups, and their costumes are marked by distinctive shoes called "kierpce". Mountaineers' dances are divided into two segments: single dances ("kolomajki") and group dances ("hajduk"). The performance is centered around the mountaineer, who is characterized as hard, infatuated with his land and impulsive.
The Alliance of Poles "PIAST" Ensemble has performed by request for former Cleveland Mayors Michael R. White and Jane Campbell, the organizers of the Annual Lorain International Festival, and most recently, the Annual International Services Center Festival and Ohio State Fair in Columbus, Ohio. Thanks to their extensive repertoire, skill, and colorful authentic costumes, they are often called to perform throughout the Polish-American Community.


gottscheer tanz und spielkreis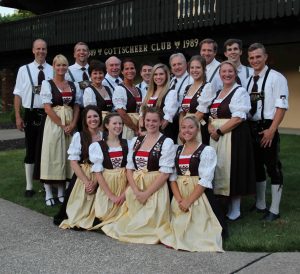 For nearly twenty years, Gottscheer Tanz Und Spielkreis has taken it as its mission to nurture and promote the tradition of Austrian folk dancing.  Located in Russell, Ohio, there is no mistaking the Gottscheer Club with its distinctly Alpine facade.  Including dance groups for both a children and adults, Gottscheer ensures that dancers of all ages can join in to celebrate the wonderful cultural heritage of Austria.  Some of the Gottscheer members also participate in an Alpine music group. 

In addition to several club functions, Gottscheer Tanz Und Spielkreis has performed at various cultural and ethnic events in the greater Cleveland area, as well as other states and in Canada.

MORAVA FOLKLORE SERBIAN DANCERS
Web: stsavachurch.org

Morava Folklore Group includes a young generation of dancers ranging in ages 5 years and older.  Our goal is to preserve Serbian culture and tradition through our folk dance and costume.   Our group performs in festivals across North America and continues to be supported by the Serbian community.


el corazon de mexico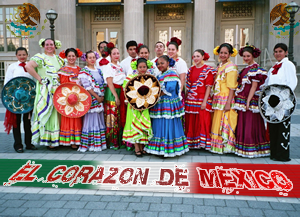 "El Corazon de Mexico", which in translation means, "The Heart of Mexico" is a Mexican folkloric dance group from the Toledo area. Elaina Hernandez is the group's director and choreographer. She brings 21 years of Mexican dance experience to the group. She has studied under Maestro Carlos Vega of Mexico and Director Rene Cardoza of Chicago.
"El Corazon de Mexico" demonstrates the beauty and charm of the culture in performing from a repertoire of over 100 dances. Mexico is made up of 32 states.  Each state has a unique style of music, dance and costume. Each performance gives the audience a taste of the variety within this art.
A sincere desire to learn both Mexican dancing and tradition, along with a dedication to hard work and weekly practice throughout the entire year, are asked of all dancers. In return, they receive a new awareness of their heritage, good leadership skills and an education in both the history and culture of Mexico. Their many talents come together to create a beautiful and exciting performance.
"El Corazon de Mexico" performs at festivals, cultural celebrations, parties, weddings, civic and religious functions and other events.

fairmount spanish dancers