Hacker-Pschorr:
Brewing Perfection Since 1417

The name Hacker-Pschorr stands for a Munich brew tradition crafted over centuries, and acclaimed far beyond the borders of Bavaria throughout the entire world. As a brewer focused on quality, Hacker-Pschorr of course brews in accordance with the Bavarian Reinheitsgebot or Beer Purity Law. Our beer is sold in the popular traditional swing-top bottles.

Hacker-Pschorr Beers On Tap at O-Fest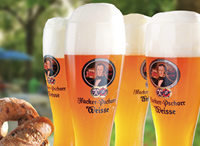 Hacker-Pschorr Weisse Dark
Description: Brewed according to old Munich tradition with the finest roasted dark wheat and barley. This bier is rich in flavor, yet lively in body. Your new favorite beer.

Tasting Notes: Perfect for spicy food and spicier nights out. This dark wheat bier is surprisingly light and thoroughly refreshing. Pours a mountainous head that becomes more creamy as it settles. Tastes of banana / clove, smoky malt, roasted grains and a hint of light chocolate. 5.5% ABV, 13 IBU, and 29 IBC.

Aroma: A clean, robust, malty nose with hints of hops.

Appearance: Dark, rich color, yet exceedingly clear.

Ingredients: 100% natural. Brewed wi th pure spring water, Hacker-Pschorr's centuries-old, exclusive yeast strain, Hallertau hops, 60% light-color malted wheat and 40% dark and light-colored malt from two· row Bavarian summer barley.

Awards:
• Beverage Testing Institute – 93

Food Pairings: Pairs well with robust game, grilled peppercorn sirloin and shellfish, as well as sumptuous desserts.