REGISTER:

Click here to register. Registration requires creating an account on the LEAKOIL forum and posting your request to campout on their Oktoberfest 2012 thread.

LEAKOIL
(Lake Erie Area Kombi Owners Involvement League), in conjunction with the Labor Day Oktoberfest, invites all air-cooled VW bay, split-window and vanagon owners to show off their wheels at the Labor Day Oktoberfest, though campers MUST register first through LEAKOIL via their forum. New Member forum registration can be found at
this link
. To request to be added to the list of attendees for the VW campout, post a reply to the Oktoberfest 2012 on their message board. Those arriving in air-cooled VWs will be directed to the VW entrance and will gain
FREE ADMISSION
to the Oktoberfest!
This year the VW Campout will again be in the area of where car show will be on Saturday. Firewood will be provided for bonfires Friday-Sunday nights. The actual VW show will be held Saturday, with official campout nights of Saturday & Sunday nights, though folks and their Volks are welcome to campout Friday night as well.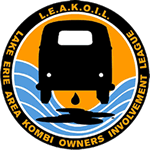 The VW show is not a juried competition, though Oktoberfest will be sponsoring a juried Vintage and Antique Car Show on Saturday, which will include an award for Best VW. VW owners who wish to participate in the Vintage and Antique Car Show should contact Rudi Kamper at 440-234-4027. To view a brochure regarding the VW show and campout, click here. To find out more about the Vintage and Antique Car Show, click here.

Warning & Disclaimer: Please note that neither LEAKOIL nor The Labor Day Oktoberfest are liable for any damage, injury, or loss of equipment, and that failure to abide by the camping rules as enumerated on the LEAKOIL Oktoberfest 2012 forum thread can result in immediate expulsion from the 2012 Oktoberfest, and if warranted, a ban from participation in the campout at future Oktoberfests.