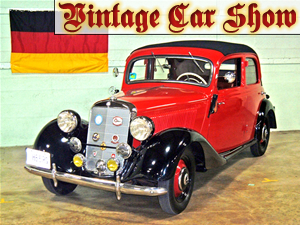 Saturday, September 2nd, 2017
Registration Form: Click here
Oktoberfest is excited to present our Vintage and Antique Car Show. The cars on display are more than just marvels of mechanical ingenuity. They have histories and provenance. For example, you can find out all about the German Spy Car!
Beyond being crafted with an artistry that seems to have been discarded somewhere along the assembly line, these wheels have been places. Oktoberfest invites you to hop in and take a drive back in time.
WANT TO SHOW OFF YOUR WHEELS?
Have a trippy hippy bus, mint Mercedes, or audacious Audi? Show off your wheels at the Labor Day Oktoberfest Car Show and receive both free admission and a chance to win some great prizes! To apply, simply fill out and return this form. Prizes will be awarded for Best Mercedes, Best BMW, Best Classic, Best Porsche, Best VW, Best Audi, People's Choice, Mayor's Choice, and Judge's Choice.
Also part of the car show will be a VW Bus Exhibit and campout, featuring over 20 vintage… and less than vintage buses. Registered LEAKOIL members who arrive in a VW Bus receive free admission to the Oktoberfest, the provision of firewood for a campfire, access to bathroom facilities, as well as free camping throughout the weekend. Find out more about it by visiting this page.