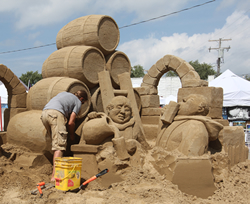 Local prodigy Carl Jara is now a World Champion! Having grown up on the sunny shores of Mentor, OH, he had all the advantages: shale, rocks, a rusty bucket…. Okay, he didn't have any advantages. All the more amazing is it then, that Jara, having entered himself in the largest master's sand sculpture competition in the world, comprised of 72 sculptors in three divisions, plus sculptures from two former contests, won the whole shooting match and emerged as World Champion. The competition took place in the Canadian Rockies at the foot of a glacial lake in Harrison Hot Springs, British Columbia. For more info on Jara and tons of photos of his work, visit Carl's site.
Recently featured on The Travel Channel, Carl Jara has won just about every honor there is to win as a master sand sculptor. In addition to having been named 2008's World Champion, he is the only sculptor ever to have won more than one Sculptors Choice Award at the World Championships — receiving the honor an unheard of four times in the last six years. Carl took home his fourth Solo medal at the 2006 World Championships, and two years ago, as a member of team Grain Damaged, Carl won Sand Blasters' Best Recovery Award with then teammate, Kirk Rademaker, after suffering a blast in the first round.
Over the past several years, Carl has completed an amazing 15 foot tall castle in the likeness of Neuschwanstein, converted Mad King Ludwig's Banquet table into sand, sculpted the Von Steuben Day Parade scene from Ferris Bueler's Day Off, as well as Wagner's Ride of the Valkyries, Budweiser's Clydesdales, Little Red Riding Hood, Beowulf's dragon, and more. Visit our photo gallery to check out pics from past years.