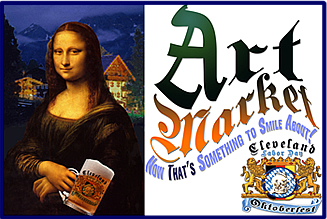 TIMES:
Sept. 1st, 2023 – 4pm-10pm
Sept. 2nd, 2023 – noon-10pm
Sept. 3rd, 2023 – noon-10pm
Sept. 4th, 2023 – noon-7pm
Sept. 8th, 2023 – noon-10pm
Sept. 9th, 2023 – noon-7pm
APPLICATIONS:
2023 Online Art & Craft Market Application
2023 Downloadable PDF Art Market Application
2023 Downloadable PDF Craft-Market-Application
Juried Fine Arts Show & Sale and juried Crafts Show Featuring Over 50 Artists and Crafters
The Cleveland Labor Day Oktoberfest is proud to present Art Market and Craft Market. Art Market and Craft Market are separate juried shows, which between them will feature over 50 talented artists and crafters from Cleveland and beyond. If you love arts and crafts, come on out to the Oktoberfest where you'll have the option to browse and even purchase works by some of the finest artists in Northeast Ohio.
This year's exhibitors
Art Market Building
Both Weekends
Berea Fine Arts Club booth
Birdshead Forge
Crestview Photography
Crumbles Bake Shoppe
Ellen Weinhouse Gemstone Jewelry
Floriponya's Happy Bear
Hode Podge LLC
Honeys Babies Candles
Mekoriginal Oils
Muck Monsters of Hartville
Photos by Michael
Planet Egg
Ryu No Sakabi Pottery & Blacksmithing
Silver Heron Studios
Snip N Stitch
The Plain Dealing Clevelander
Wild Breeze Candles
Labor Day Weekend Only
Ashling Aine
Da Realist Apparel
The Home Pantry
Northfolk Mercantile
Sassy Sisters
Shamrock Chic
Triple Play Vintage
Union Creek Soap Co
Sept 8-9, 2023 Only:
Doodlebugs by Devida
Katie Mae Naturals LLC
Craft Market Building
Both Weekends
Colleen's Candles and Soaps
Darley Ashi
Fargo Fleece
Fortune's Cookies
Fuego Fermentations
Golden Gypsy Honey
Fosters Old Fashioned Fudge
JaZaJewels
Kay-Em Apparel
My Turquoise Kitten
Nectar of the Vine
Oliver's Treasures
R & O Uniques
Transfigured Trees
Labor Day Weekend Only
Ashwini's Krafts N Creations
Fabit Metal
Hippie Chic Clothing
Nepali Artists
Pixel Mania
Sept 8-9, 2023 Only:
Darbynwoods
The Dogs Bag
Kimberley Rose, LLC
LaJAshley
Merchants Building
Both Weekends
Atlas & Aether
Bakin It Low Carb
Blastmaster
BROM
CBD American Shaman
Chocolate Moonshine Co.
CLE Tie Dye
Cleveland Metroparks Zoo
Color Street
Cowboy Choice
Creative Embroidery by Design
Dean's Candles and More
DeModa Ducci
Floyd Art
German Import Haus
Humble Bee
I love CLE
Jtoth Art
Lipsence from Creative
Beauty by Michele
Juanita Arline LLC
M.B. Home and Body Décor
MercyWerks Studio
Paparazzi
Peppers 4 Fun, LLC
Rockin Poppin Popcorn, LLC
Scented Dreams Candle Company
Scentsy
Spill Proof Liquid
The Home Pantry, LLC
Toms Sports
Crystals &More
Triple Play Vintage
Victoria's Small Batch Bread & Bakery
Labor Day Weekend Only
Black River Crystal
Novelty Trade Inc
Rocket E3
Sapore Soap
Shen Yun
Tales Unlimited
Sept 8-9, 2023 Only:
A-Typica Coffee Company
Buttery Bee Bakery
Cleveland School of Cannabis
Gamers Lair
Honey Call Anthony
Mom's Garden
Motherland Jewelry and Gifts, LLC
Something Fun Studios
for artists & crafters
Artists and crafters who wish to exhibit and sell their works are required to submit three sample slides for review. If sample images of your work are available on the internet, please note the address where samples can be found. We accept all media, including: digital art, leather, metal and wood art, photography, watercolors, oil paintings, acrylic paintings, ceramics, sculpture, pottery, art food, wearable art, textiles, and art jewelry. The only caveats are:
The product must be hand made and not mass produced (i.e. Tupperware is not art, unless you do something interesting with it).
The art or craftwork must not be profane or indecent (As a family-friendly event, Cleveland Oktoberfest reserves the right to define what it considers to be profane or indecent).
The Art Market coordinators must be shown slides or photo samples of your art or craftwork for review. These samples must accurately represent your work. If the samples are of sufficient quality, you will be invited to participate in Art Market.
Once your application has been accepted you must adhere to the rules regarding deposits and booth fees, as well as set-up and tear down.
When submitting your application, please remember to provide sample images of your art or craftwork. Failure to do so will prevent your application from being processed in a timely fashion.
If you are an artist or crafter and have questions about Art Market, please call Lisa Nemeth at 216.570.8201, or contact North Coast Promotions by email at:
northcoastpromo@hotmail.com.
Thanks for your interest, and we look forward to seeing you in 2023!