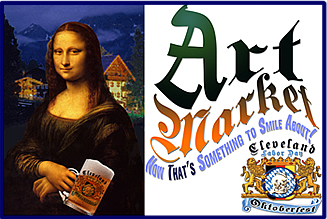 TIMES:
Sept. 2nd, 2022 – 4pm-10pm
Sept. 3rd, 2022 – noon-10pm
Sept. 4th, 2022 – noon-10pm
Sept. 5th, 2022 – noon-7pm
Sept. 9th, 2022 – noon-10pm
Sept. 10th, 2022 – noon-7pm
APPLICATIONS:
Online applications coming soon!
2022 Downloadable PDF Art Market Application
2022 Downloadable PDF Craft-Market-Application
Juried Fine Arts Show & Sale and juried Crafts Show Featuring Over 50 Artists and Crafters
The Cleveland Labor Day Oktoberfest is proud to present Art Market and Craft Market. Art Market and Craft Market are separate juried shows, which between them will feature over 50 talented artists and crafters from Cleveland and beyond. If you love arts and crafts, come on out to the Oktoberfest where you'll have the option to browse and even purchase works by some of the finest artists in Northeast Ohio.
This year's exhibitors
The Berea Fine Arts Club www.bereaarts.org
Art Market:

*Birdshead Forge
Metal work sculpture
*Crestview Photography
Photography
*Ellen Weinhouse Gemstone Jewelry
Fine Jewelry
*Ryu No Sakebi
Japanese Inspired Pottery & metal Work
* Berea Fine Arts Club Member

Guest Artists:

Ashling Aine
Celtic Jewelry
Muck Monster of Hartville
Book & Hot Sauces
for artists & crafters
Artists and crafters who wish to exhibit and sell their works are required to submit three sample slides for review. If sample images of your work are available on the internet, please note the address where samples can be found. We accept all media, including: digital art, leather, metal and wood art, photography, watercolors, oil paintings, acrylic paintings, ceramics, sculpture, pottery, art food, wearable art, textiles, and art jewelry. The only caveats are:
The product must be hand made and not mass produced (i.e. Tupperware is not art, unless you do something interesting with it).
The art or craftwork must not be profane or indecent (As a family-friendly event, Labor Day Oktoberfest reserves the right to define what it considers to be profane or indecent).
The Art Market coordinators must be shown slides or photo samples of your art or craftwork for review. These samples must accurately represent your work. If the samples are of sufficient quality, you will be invited to participate in Art Market.
Once your application has been accepted you must adhere to the rules regarding deposits and booth fees, as well as set-up and tear down.

When submitting your application, please remember to provide sample images of your art or craftwork. Failure to do so will prevent your application from being processed in a timely fashion.

If you are an artist or crafter and have questions about Art Market, please call Lisa Nemeth at 216.570.8201, or contact North Coast Promotions by email at:
northcoastpromo@hotmail.com.

Thanks for your interest, and we look forward to seeing you in 2022!