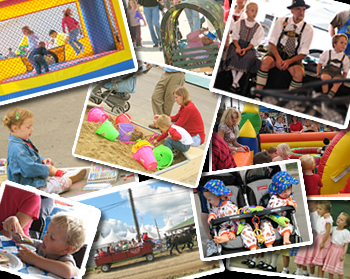 Oktoberfest is first and foremost a family event. We have worked hard to ensure that families can come out and enjoy the festivites without putting a pinch on their pocketbooks. For this reason, children under 12 are admitted free. We have also added to the menu food that kids love to eat, like pizza, hot dogs, corn dogs and lemonade. In addition, we've come up with a host of educational and fun activites just for kids.
frisch marionette company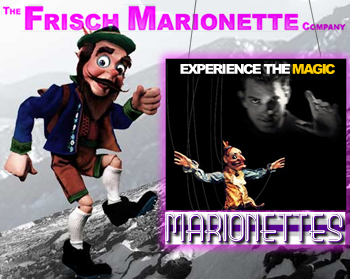 Website:
frischmarionettes.com
When:
Saturday:
2:30PM, 5PM
Sunday:
2:30PM, 4:45PM
To call a production by
The Frisch Marionette Company
a puppet show would be like calling the Indy 500 "some cars driving." Not too many puppeteers have found themselves featured on
Showtime
and in
People
magazine. Frisch has been featured in both. In terms of staging, lighting, artistry, and originality, Frisch transcends the usual, and ventures into the extraordinary, mesmerizing children and adults alike with their productions. Doubters need only visit the
Testimonials
section of the Frisch website, where words and phrases like, "enthralling", "…best school performance I have seen in my 21 years of teaching," "Wonderful! Wonderful! Wonderful!," and "The children were spellbound" are the norm. This type of entertainment is rare. This quality of entertainment is even rarer.
IN THEIR OWN WORDS
The Frisch Marionette Company began as all good things do, with a thought, a dream and a committed passion to making that dream real. We could say that the beginning of the Frisch Marionettte Company goes all the way back to a childhood puppet show whose impression never ended. That would be true, but it was much later, after many years meandering through the arts that Kevin Frisch rediscovered the beauty, the challenge and satisfaction of puppetry.
By 1986 Kevin had moved to New York City and joined Nicolas Coppola and The Puppetworks of Brooklyn. Working with the many talented puppeteers at the Puppetworks, Kevin developed his own art, craft and skills as a puppeteer and artist. The next nine years were spent touring the New York Metropolitan area as well as performing in The Puppetworks permanent theatres in Brooklyn and Macy's Herald Square.
In 1995 Kevin moved back to Cincinnati to begin what is today The Frisch Marionette Company. Working with a talented team of puppeteers and artists, Kevin has established The Frisch Marionettes as an exceptional entertainment and educational experience for children and adults alike.
Working primarily with marionettes, The Frisch Marionette Company performs in the traditional styles of 19th Century European Puppetry. Drawing inspiration from the great Europeon troupes such as the Salzburg Marionette Theatre, we endeavour to bring one of the great old world arts to young, contemporary imaginations.
Every aspect of a Frisch Marionette production is designed, handcrafted, created and recorded in our own workshops. Each and every puppet is handcarved, every costume is sewn and custom tailored for each character. We take great pride in our craft, but we're even more proud of the excited, twinkling eyes of wonder that surround us at the end of each performance.
otto the wiener dog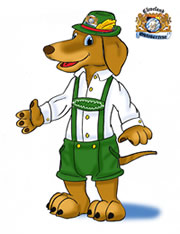 Oktoberfest is also pleased to introduce our new mascot,
Otto the Wiener Dog
. Otto doesn't bite, is house-trained, has all his shots, loves catching Frisbees, locating avalanche victims, and long walks on the beach. Given his human-size dimensions, Otto is having trouble finding a forever companion, so if you know any giant female wiener dogs, please let Otto know as his paws are too big to operate a keyboard. In the run up to the Oktoberfest, we'll try to get Otto out of his dog house as much as possible, so don't be surprised to see him at sporting events, parades, slipping into the frame behind Hoda & Kathie Lee, or at ribbon cuttings, newsworthy crime scenes, political rallies… or any other venue into which we can sneak a giant wiener dog. An artist's rendering of Otto can be seen to the right.
inflatables
If you've ever seen children bouncing in an inflatable space walk, you realize that kids can't get enough of them. They can jump and bounce virtually all day, which usually means that they will sleep all night—not an altogether bad thing. Family Fun Attractions will be traveling in from Pittsburgh with several different inflatables for the kids, including:
Euro Bungee
Two Slides
Bounce House
Land Balls
Meltdown – 8 people get inside and knock each other off pedestals
Obstacle Course
This year, Family Fun Attractions will be upping the ante, bringing in some very cool slides and rides. The huge Adrenaline Rush Obstacle Course, complete with two slides, will keep the kids thoroughly engaged. There will also be multiple play and bounce inflatables for the younger ones.
Additionally there's the Euro Bungee, where kids can harness themselves in and, with the help of a trampoline, gain a bird's eye view of Oktoberfest. And if they like to live dangerously, they may even try a few somersaults. Regardless, your children will have a blast with all the new slides and rides at the 2019 Cleveland Oktoberfest Each Unit is staffed by a qualified attendant. So bring the kids and lets get Oktoberfest hoppin! You have the option to pay by the ride, or purchase an All-Day Wristband.
wiener dog races
The kids will love the wiener dog races which include a "Best Dressed Dog" competition. If you want, you can dress the family wiener dog in costume and enter the contest. Your pet may never forgive you, but the pictures will be priceless!