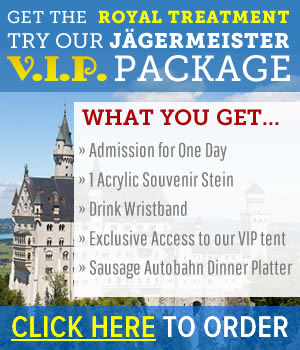 Get the royal treatment at the 2019 Cleveland Oktoberfest by taking advantage of the Oktoberfest V.I.P. pass. V.I.P.'s will gain exclusive access to the Jägermeister V.I.P. Tent, where they can relax, enjoy catered dining and other V.I.P. benefits (see the list below). To purchase a V.I.P. pass, just
click here
, and select the V.I.P. pass from among our ticketing options.
Admission to any one day of Cleveland Oktoberfest + Admission to the Cleveland Oktoberfest Pre-Party
1 Liter commemorative stein
Exclusive access to our NEW Air-Conditioned VIP tent with private facilities
A drink wristband for unlimited* pours at all Hacker-Pschorr & Paulaner bier stations throughout the festival.
Catered Dining
Access to Exclusive V.I.P. Areas in our Bier Garten, Paulaner Fest Tent and Sausage Autobahn.
*Our TIPS trained servers reserve the right to refuse service to anyone who seems inebriated.