IMPORTANT: 5K Race participants must use the Eastland Rd entrance to the Fairgrounds (164 Eastland Rd, Berea, OH 44017).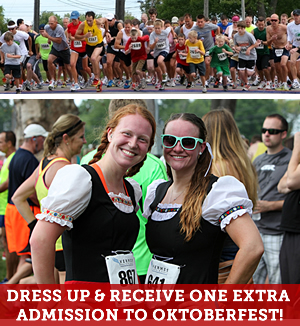 Click here to download the mail-in application form, or Click here to register online.
Online registration will close Sunday, Sept 1, 2019 at 9am! All mail-in entries must be received by Wednesday, August 28, 2019.
Please make checks payable to: Hermes Sports & Events
Mail entries to:
Hermes Sports & Events
2425 W. 11th Street, Suite 2
Cleveland, Ohio 44113
Dress Up & Save: Participants who dress up in authentic German Costume will receive one (1) additional FREE admission!
Awards (5K Only):
The 2019 5k Run is a B-Tag Chip Timed Event. Awards will be given to the Top Male and Top Female overall as well as three deep in the following age categories:
14 & Under, 15-19, 20-24, 25-29, 30-34, 35-39, 40-44, 45-49, 50-59, 60-69, 70 & Over and Wheelchair.
CONRAD'S TIRE EXPRESS & TOTAL CAR CARE CERTIFICATES TO BE AWARDED
Four (4) $100 gift certificats to be awarded to the following on race day:
One (1) Top Overall Finishing Male
One (1) Top Overall Finishing Female
One (1) Randomly-Selected Participant from all Pre-Registrants
One (1) Randomly-Selected Participant from Total Number of Participants (Pre or Day-Of) in the Cleveland Oktoberfest 5K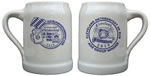 Click to enlarge
Age Class winners 20 and over will receive a Commemorative Ceramic Mug (picture to the right).
Age Class winners 19 and under will receive a medal.
What You Get:
1

Show your race bib at the Eastland Rd. Gate and received one FREE Admission to the Cleveland Oktoberfest.

2

One FREE Mini Stein with a Paulaner Drink Ticket (21 or Older).
Click to enlarge

3

A Goody Bag courtesy of Conrad's Tire Express & Total Car Care including refreshments from Giant Eagle, Frito-Lay, Monster Energy and Gatorade (while supplies last).

Click to enlarge

4

Pre-Registered runners will also receive a Cleveland Oktoberfest 5K Run T-Shirt.

Click image to enlarge
Last year's 5K Run/1 Mile Walk was held Monday, September 3rd, 2018. The race drew over 900 runners. Pics from the 2018 5K can be found in our gallery here or click here to view 2018 race results.