Sponsors
| | |
| --- | --- |
| | |
| Official Bread of the Cleveland Oktoberfest | Official Bratwurst of the Cleveland Oktoberfest |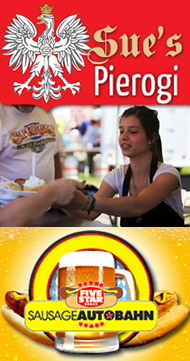 Want to go where the wurst is the best? The Cleveland Oktoberfest is excited to present its latest food venue… the Sausage Autobahn! Located just across from the Glockenspiel, and housed in an air-conditioned building, the Sausage Autobahn will feature some of Bavaria's finest sausages, all from Five Star Brand Meats.
To top it off, your meal will be served with your choice of sides from none other than Sue's Pierogi. A local institution, Sue's Pierogi has been serving up Polish cuisine in the Cleveland area for over 30 years. When you taste her potato pancakes, cabbage and noodles, and pierogi, you'll understand what's kept them in business for a quarter century and going strong.
Note that you can also purchase a special ticket to Oktoberfest that includes a Sausage Autobahn Dinner Platter. See details on available platters below, or click here to purchase tickets.
Cabbage & Noodles Platter

Cle Okt Brat or White Brat
Potato Pancake or Pierogi
Cabbage & Noodles

Pierogi Platter

Cle Okt Brat or White Brat
Potato Pancake
Pierogi

NOTE:

You also have the option of purchasing just a sausage sandwich. See the different sausage varieties below.

White Bratwurst

Bavarian style all-pork sausage, mildly seasoned with a hint of lemon.

Cleveland Oktoberfest Brat

A classic GERMAN all pork bratwurst that has robust flavors of sweet paprika, garlic and ground red pepper.
All Items in Natural Casings | No MSG | Gluten Free