dorfrocker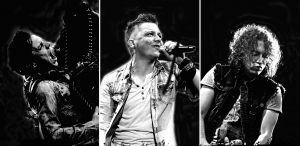 dorfrocker.de
The Cleveland Oktoberfest is thrilled to present, all the way from Germany: Dorfrocker! We're also excited to announce that for the second time in a row, Dorfrocker has hit the TOP10 of the German album charts with their latest album "Heimat.Land.Liebe." (Home.Country.Love.)!
Remaining loyal to their rural roots, while at once charting a course for stardom, Dorfrocker's highly acclaimed predecessor "Wood" (#4) garnered the party rock stars a career boost and plenty of notoriety. With over 1,000 shows in Germany and abroad, more than 100 TV appearances and more than 30 fan clubs, Dorfrocker has cemented themselves as one of the top party bands in the world, and are regulars at the Munich Oktoberfest.
Having made music together since childhood, the three brothers Markus, Tobias and Philipp Thomann hail from Kirchaich, a small village (population 900) near Bamberg, where they still live today. While this small town band may have made it big, the name of their new album still fits their rural roots like a glove: "Heimat.Land.Liebe." (Home.Country.Love.) Through the success of prior albums, Dorfrocker has proven that their crossover rocky/party sound, mixed with traditional elements and catchy tunes strikes a chord with the masses – whether on national hit TV shows or at major rock festivals. Their sing-along hymn "Dorfkind" is an infectious national party anthem, because as everyone who's experienced a live Dorfrocker show knows: these guys love nothing more than to make music and have fun with their fans.
Regardless, their primary motive was never fame: "Music is always the focus," says singer Tobias Klar, "we do not care about being famous. But to stand on stage and play for people who have a great time at our concerts, that's what we enjoy." Fortunately for the trio, Dorfrocker's fan-first focus on entertaining has paid huge dividends. Now in their tenth year, ticket sales are through the roof, most of their gigs are sold out, and their self-organized hometown festival "Village Air" attracts thousands of fans annually. And on social media, their presence is no less impressive. Songs such as "Dorfkind" and "Rowan" have generated well over 5.5 million clicks on their YouTube channel, and their Facebook fanbase is now 130,000 strong—not bad for three brothers from a village of 900.
On "Heimat.Land.Liebe.," Tobias, Markus and Philipp keep the party going, by continuing to churn out hit after hit. Take a listen and you'll know why, as it's hard not to tap your feet when you hear good-mood crackers like, "Until the Baker Opens," "I Think My Glass Has a Hole" or the funny-crazy, "Not Completely Normal." Even fans with more modern rock sensibilities will love numbers like, "Let it Stay that Way" and "Silent Heroes."
the klaberheads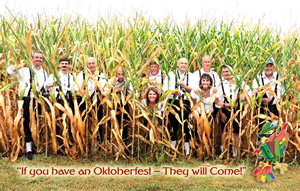 Whether it's toe-tapping polkas for an Oktoberfest, Big Band Swing, or a Caribbean Party atmosphere, The Klaberheads (aka the Franz Klaber Orchestra or FKO) are one of the premier Oktoberfest big bands in the country.
The Klaberheads are known throughout the midwest as a consistent crowd pleaser. It's a reputation that Erika Klaber's grandfather, Franz, a German immigrant, began building when he founded the orchestra in 1930. And, it's one that's earned The Klaberheads invitations to perform at Epcot Center, Munich's popular Hofbrauhaus in Newport, Kentucky, and myriad other venues. They especially enjoy playing yearly at the major Oktoberfests in the midwest, including Cincinnati, Columbus, and Minster, and now, Cleveland! The high demand for The Klaberheads can be traced to their top musicianship and their ability to achieve a high-energy connection with their audiences.
The FKO Big Band performs at all types of venues… from conventions, to summer concert series, wedding receptions, parties, and dances. They play tunes from a wide variety of musical genres and appeal to listeners of all ages.
deutscher musik verein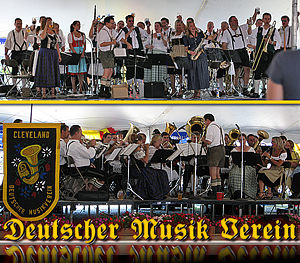 Oktoberfest is excited to present Deutscher Musik Verein (or auf englisch, the German Music Society) of Cleveland, Ohio, USA.
Deutscher Musik Verein is a 25-piece German brass band, under the direction of award-winning musician and band leader Fred Ziwich. Beyond orgainzing a wonderful band, Deutscher Musik Verein has done exceptional work as an organization–its mission being to preserve and celebrate German musical heritage and culture.
chardon polka band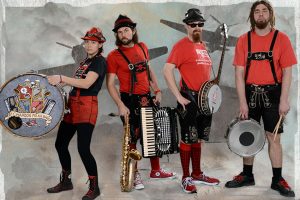 chardonpolkaband.com
What happens when teenage accordion players aren't allowed in marching band? They start a polka band. That's the story of teens Dan O'brien, Dan Sutts, Paul Coates, Mike Lewis, Cody Garret, and Jake Kouwe, who nine years ago launched "The Chardon High School Polka Band." Long hair, torn jeans, chuck taylors, and a blue mohawk may not be what you'd expect from your average polka band, but there was nothing average about these outcasts from Chardon. With their relentless energy, musical skill and off-the-wall sense of humor, they were destined to reinvigorate the genre.
Starting humbly, they at first played solely for peers and local nursing home residents. It didn't take long though for the outcasts to become the in thing, as they were soon playing notable venues and events across northeast Ohio. While there's been a lot of change in the nine years since their inception, the band's chief goal remains constant—rocking your socks off with polka music!
From their humble beginnings as high schoolers going against the grain, playing polkas instead of punk, the Chardon Polka Band has evolved into one of Northeast Ohio's most beloved and recognizable acts. And as they continue to redefine and breathe new life into the genre, their popularity just keeps growing. No longer just a local act, they can now be found playing gigs throughout the midwest and up and down the east coast. What's more, they are now the stars of a new reality series titled, The Polka Kings, which premiered April 11, 2015 on REELZ TV. Click here for more information on the show!
fred ziwich & the intl. sound machine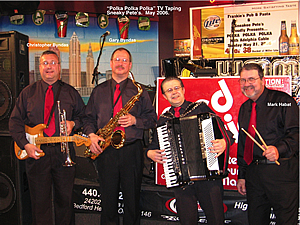 gottscheer blaskapelle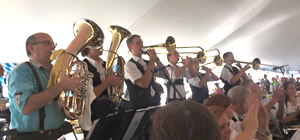 The Gottscheer Blaskapelle was founded in 1969 by Edmund Seifert and began with 5 musicians, who immediately started building a repertoire of Austrian-style brass band music. With the support of parents, relatives and friends, the Blaskapelle thrived and was comprised of over 30 musicians by the early 1970s. Mr. Seifert served as the group's president and director for approximately 40 years. Al Widmer, who has been with the band since its early days, is its current musical director.
Proudly, the Blaskapelle has always been a multi-generational group. Its youngest musicians, often a mere 10 years of age, play and learn from its most seasoned players, who can be 80 or more. A few original members still rehearse and perform with the Blaskapelle and encourage newer members to learn, play and appreciate the band's rich musical heritage.
The Gottscheer Blaskapelle's purpose is to preserve, teach, and promote its rich musical heritage. It does so through rehearsals and performances of primarily Austrian and German brass band music. The Gottscheer Blaskapelle regularly shares this rich heritage by performing at numerous German, ethnic and community events and festivals throughout the Cleveland area, as well as in New York City, Milwaukee, Kitchener and Toronto, Canada.
The Blaskapelle has also had the pleasure of touring through Germany and Austria. While on tour in Graz, Austria, it was featured playing 'Heimatland Gottschee' on Austrian Television. This piece was composed specifically for the band by composer/arranger Herbert Krebs.
The Gottscheer Blaskapelle is affiliated with the Erster Österreichischer Unterstützungs Verein, also know as The Gottscheer Club, which is located in Novelty Ohio.
The band is always happy to welcome new members. Please feel free to contact us through our Facebook page: facebook.com/GottscheerBlaskapelle
brian papesh band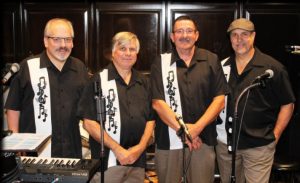 brianpapeshband.com
The Brian Papesh band has performed at many private parties, weddings, dances, and community events throughout greater Cleveland and surrounding areas since the 80's. This seasoned group of professional musicians play a great mix of party music that people love to sing along and dance to. The band can easily switch from playing authentic sounding Rock n Roll, Country, Motown to dynamic sounding Polkas as well as other genres.
Cleveland Maennerchor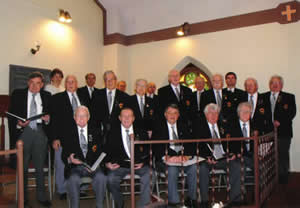 Heights Damenchor
The Heights Damenchor was founded in May, 1876. This chorus is probably the oldest surviving Women's German Chorus in the United States. They may, in fact, be the oldest surviving German Chorus. The suburbs were called the Heights and it was decided to name the group the Heights Frauenbund.  Sometime later the name was changed to Heights Damenchor. Many of the directors stayed for a long time and were of German descent.
In 1945 the chorus met at a new location, the Heights-Maennerchor Halle, and have remained at this location (Cleveland Maennerchor, 4515 State Road). The Heights Damenchor have been active members of the Central Ohio Bezirk and North American Saengerbund by participating in their Saengerfests every 3 years. They are also members of the Deutsches Saengerbund in Germany and received the many awards regarding participation in German Song and Traditions. Many of the members' families and friends have come from the same area of Germany keeping the traditions and music alive. We celebrated our 125th Anniversary in 2001 with a gala evening of song which included the other German Singer Clubs. New members are welcome and do not have to be German. Our members will teach you the German.