chardon polka band
Website:
chardonpolkaband.com
What happens when teenage accordion players aren't allowed in marching band? They start a polka band. That's the story of teens Dan O'brien, Dan Sutts, Paul Coates, Mike Lewis, Cody Garret, and Jake Kouwe, who nine years ago launched "The Chardon High School Polka Band." Long hair, torn jeans, chuck taylors, and a blue mohawk may not be what you'd expect from your average polka band, but there was nothing average about these outcasts from Chardon. With their relentless energy, musical skill and off-the-wall sense of humor, they were destined to reinvigorate the genre.

Starting humbly, they at first played solely for peers and local nursing home residents. It didn't take long though for the outcasts to become the in thing, as they were soon playing notable venues and events across northeast Ohio. While there's been a lot of change in the nine years since their inception, the band's chief goal remains constant—rocking your socks off with polka music!

From their humble beginnings as high schoolers going against the grain, playing polkas instead of punk, the Chardon Polka Band has evolved into one of Northeast Ohio's most beloved and recognizable acts. And as they continue to redefine and breathe new life into the genre, their popularity just keeps growing. No longer just a local act, they can now be found playing gigs throughout the midwest and up and down the east coast. What's more, in 2015 they starred in a REELZ TV reality series titled, The Polka Kings.


the brews brothers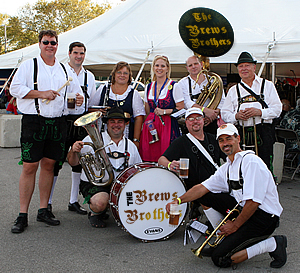 Comprised of members of Deutcher Musik Verein, the Brews Brothers are a fun-loving roving band who can drink, play musik, sing and incite communal revelry all at the same time. For those who find drinking and standing simultaneously a challenge, don't try this at home without a spotter. The Brews Brothers are professionals.